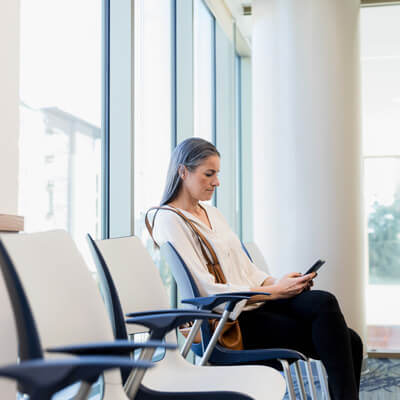 New Patients at Adelaide Family Chiropractic
What to Expect
If you've ever gone to a social event where you didn't know anyone, you know how uncomfortable that can make you feel. Our goal is to eliminate every shred of apprehension and make you feel at home.
Since chiropractic care involves a series of visits, with each one building on the ones before, it's important that our relationship can go the distance. We've found that one of the best ways to have successful patient relationships is to explain everything in advance. No surprises!
We want to make your first visit at our office as pleasant as possible with no surprises. You'll find plenty of parking in our lot on the north side of the building, off Adelaide street. Feel free to enter the clinic through the white door from the lot. You'll be greeted and asked to fill in some paperwork (if you haven't already). When you are finished, a member of our team will give you a tour of the office and show you to a treatment room.
Next, you will meet one of our chiropractors. The purpose of your consultation with the doctor is to discuss your health goals and see if chiropractic is likely to help you. If it looks promising, a thorough examination will help identify the cause of your problem. If X-rays are needed, they will be ordered at this time. You can expect the consultation and examination to take about thirty to forty-five minutes.
After we study your health history and correlate our examination findings, we'll make recommendations designed to help you get and keep your health. We call this the Report of Findings.Most people receive their first adjustment on this visit.You can expect it to take approximately twenty minutes.
After the investment of time needed on the first and second visits, many patients become concerned that every visit will take that long.You may be relieved to learn that a typical office visit usually requires just five to 15 minutes.
With the groundwork laid, we can quickly size up the condition of your spine and nervous system, adjust you and get you on your way. Occasionally, as with new injuries, a subsequent visit may take a little longer.We make sure that every patient gets the time they need.
Like a regular workout at the gym, each visit builds on the ones before. Miss a visit and you can lose the momentum necessary to make the needed changes. We recognize your time is valuable. So we do everything possible to run on time and minimize the impact on your busy life.
---
New Patients at Adelaide Family Chiropractic | (519) 858-9000